WHO WE ARE
Craig Vanderwagen, MD, RADM, USPHS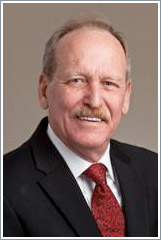 Major Areas of Expertise:
Biodefense, domestic disaster preparedness and response, international humanitarian and disaster response
Federal health delivery systems, innovative organizational development and evaluation, and cross-cultural healthcare
Public health combined with clinical medicine
Summary of Career Accomplishments:
Craig Vanderwagen is a Senior Partner with Martin, Blanck & Associates and joined the firm in November 2009. From August 2006 until July 2009, he was the founding Assistant Secretary for Preparedness and Response (ASPR), US Department of Health and Human Services. In this role, Dr. Vanderwagen was responsible for the leadership and development of a new organization whose mission was to prepare the nation for response and recovery from public health and other health disasters, whether natural or manmade. The organization was initiated after Hurricane Katrina and formalized after the passage of the Pandemic and All Hazards Preparedness Act.
Dr. Vanderwagen had a distinguished 28-year career in public service as a commissioned officer in the US Public Health Service (USPHS), Department of Health and Human Services (HHS). Before becoming Assistant Secretary, he deployed multiple times to disaster environments, including serving in Louisiana after Hurricane Katrina from August-November, 2005. He also served as lead public health official and senior officer aboard the USNS Mercy in Indonesia after the tsunami in 2005; Director of Primary Care and Public Health for the Ministry of Health in Iraq from September 2003-March 2004; consultant to the Pan American Health Organization in Honduras after Hurricane Mitch in 1999; and Medical Director for Project Provide Refuge (joint Department of Defense-HHS Kosovar refugee assistance) in 1999.
Additional Qualifications:
Dr. Vanderwagen's deployments were in addition to his duties in the Public Health Service, where he retired as the agency's Chief Medical Officer after 25 years of service. During his career with Indian Health Service, he provided leadership in the uses of electronic health records, implementation of the use of best practices to combat chronic diseases, and was an early supporter of and the agency's lead negotiator for a majority of the early Self Governance Compacts.
Dr. Vanderwagen serves on multiple boards of directors covering infectious diseases, disaster medicine and public health preparedness. He is also an advisor to the International Federation of Biosafety Associations. He received a Bachelor of Science from Calvin College and a Doctor of Medicine from Michigan State University College of Human Medicine.
Martin, Blanck & Associates:
Martin, Blanck & Associates is a healthcare consulting firm based in Alexandria, Virginia. Martin Blanck provides critical assistance to private sector clients focused on federal healthcare delivery systems and services and public health programs. The firm has more than two dozen senior executive partners with expertise in healthcare policy, program development, executive management, strategic planning, informatics, medical countermeasures research and development addressing chemical, biological and radiological threats, public health strategies, and emerging infectious diseases.