WHO WE ARE
Dixie B. Baker, PhD, MS, MS, FHIMSS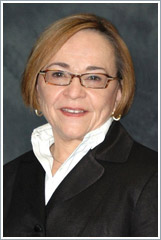 Major Areas of Expertise:
Health information technology
Electronic health records
Healthcare privacy and security technology
Sharing and protection of genomic data
Summary of Career Accomplishments:
Dixie Baker became a Senior Partner with Martin, Blanck & Associates in 2012. She is internationally recognized for her work in health information technology (HIT), electronic health records (EHR), privacy and security technology, and the sharing and protection of genomic data. In 2009, the Secretary of the U.S. Department of Health and Human Services appointed Dr. Baker a member of the HIT Standards Committee (HITSC), a Federal Advisory Committee created by the American Recovery and Reinvestment Act (ARRA) to recommend standards, implementation specifications, and certification criteria for electronic health records (EHR) technology. Currently serving her second term, Dr. Baker chairs the HITSC Transport and Security Standards Workgroup. She led the Nationwide Health Information Network (NwHIN) Power Team, which developed metrics for determining when a technology standard is ready to be considered a candidate for national standardization.
Dr. Baker co-chairs the Security Working Group of the Global Alliance for Genomics and Health, an international consortium that is building a policy framework and technology infrastructure for enabling worldwide sharing of genomic and clinical data, consistent with jurisdictional law, institutional policy, and individual consent. She serves on the Institutional Review Board (IRB) for Genetic Alliance and represents the Alliance on the Data Standards, Security, and Network Infrastructure Task Force of the Patient Centered Outcomes Research Institute (PCORI) National Clinical Research Network (NCRN) project. She serves on the Advisory Council of Health Level Seven (HL7), and on the Institute of Medicine's EHR Action Collaborative, which is recommending standards for integrating genomic data into EHRs.
Dr. Baker has performed research and engineering in high-assurance architecture and information protection throughout her 30+ year career and since the mid-1990s has applied her expertise primarily to the health and life sciences. She currently is working with Genetic Alliance and Private Access, Inc., in building the Platform for Engaging Everyone Responsibly (PEER) system, which enables individuals to make their own health and genomic data available to researchers, under sharing and use rules that the individuals themselves establish. She was the Principal Investigator for the Patient Centered Access to Secure Systems Online (PCASSO) project, a National Library of Medicine sponsored research project that is widely regarded as ground-breaking in empowering consumers to safely and securely access their medical information over the Internet. She has provided testimony to the National Committee on Vital and Health Statistics (NCVHS) as input to the development of the Health Insurance Portability and Accountability Act (HIPAA) security standards, and as guidance toward technology solutions for protecting the confidentiality of health records released to third parties.
Prior to joining Martin, Blanck and Associates, Dr. Baker was a Senior Vice President and Technical Fellow at Science Applications International Corporation (SAIC), where she served as the Chief Technology Officer (CTO) for the health and life sciences business (since spun off into Leidos). She served as the company's principal visionary and spokesperson on health-related science and technology issues; represented SAIC in national and international forums; and served as a senior consultant to federal, state, and commercial clients of strategic importance to SAIC's health business, including the Centers for Disease Control and Prevention (CDC), the National Institutes of Health (NIH), and the University of Nebraska Medical Center (UNMC). She also served on SAIC's IRB, which was responsible for overseeing the protection of human subjects in research.
Previously, in 1995, Dr. Baker was with The Aerospace Corporation, a Federally Funded Research and Development Center (FFRDC) for the US Air Force and the National Reconnaissance Office. There she founded and directed the Trusted Computer Systems Department, which performed engineering and research in information security technology, computer systems assurance, and formal verification, primarily for the National Security Agency (NSA). Dr. Baker developed the management plan that defined the methodology the NSA used for many years to evaluate trusted operating systems against the Trusted Computer Systems Evaluation Criteria (the "Orange Book"), and she served on the US team that formulated the concepts behind the international Common Criteria for Information Technology Security ("Common Criteria").
Additional Qualifications:
Dr. Baker is a Fellow of the Healthcare Information and Management Systems Society (HIMSS). In 2010, she was selected as one of the "Federal 100" top executives from government, industry, and academia who had the greatest impact on the U.S. government information systems community. In 2013, HealthcareInfoSecurity selected her as one of its inaugural "Top 10 Influencers in Health Information Security." In 2011, HIMSS recognized Dr. Baker's contributions by awarding her the John A. Page Outstanding Service Award. In 2006, she was recognized as the year's "Distinguished Practitioner" at the Annual Computer Security Applications Conference. In September 2004, at the invitation of the Ministry of Health of the Peoples Republic of China, she presented a keynote address and paper at the IDEAS04DH Workshop on Medical Information Systems, held in Beijing. In 2001, Dr. Baker was awarded the John P. McGovern Lectureship in Information and Communications, presented by the Medical Library Association. In 1997, she was presented the Priscilla Mayden Award for her work on the PCASSO project.
Dr. Baker holds a Ph.D. in Special Education and an M.S. in Computer Science from the University of Southern California, as well as M.S. and B.S. degrees from Florida State University and The Ohio State University respectively.
Martin, Blanck & Associates:
Martin, Blanck & Associates is a healthcare consulting firm based in Alexandria, Virginia. Martin Blanck provides critical assistance to private sector clients focused on federal healthcare delivery systems and services and public health programs. The firm has more than two dozen senior executive partners with expertise in healthcare policy, program development, executive management, strategic planning, informatics, medical countermeasures research and development addressing chemical, biological and radiological threats, public health strategies, and emerging infectious diseases.