WHO WE ARE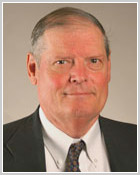 Edward D. Martin, MD



Founder and Chairman Emeritus
Major Areas of Expertise:
Federal health policies, programs and activities within the federal health systems and departments
Organizational strategic planning
Executive management and leadership consultation
Summary of Career Accomplishments:
Edward Martin is the co-founder and Chairman Emeritus of Martin, Blanck & Associates. Dr. Martin had a distinguished 30-year career in public service as a commissioned officer in the US Public Health Service (PHS), Department of Health and Human Services. His final assignments were at the Department of Defense (DoD), where he was appointed the Acting Assistant Secretary of Defense (Health Affairs).
He served as Principal Deputy Assistant Secretary of Defense (Health Affairs) from December 1992 to April 1997, where he exercised day-to-day executive management and oversight of all DoD health policies, programs and activities within the Military Health System (MHS). The nation's second largest healthcare system, the $40 billion MHS delivers care to over 9.4 million beneficiaries through a worldwide network of more than 70 hospitals, over 500 clinics and through the TRICARE triple-option purchased care commercial health program.
In his two terms as Acting Assistant Secretary of Defense for Health Affairs—from January 1993 to March 1994 and from March 1997 to March 1998—Dr. Martin was responsible for overall supervision of the health and medical affairs of the DoD. He also served as the Deputy Assistant Secretary of Defense (Professional Affairs and Quality Assurance) from March 1990 until December 1992.
Additional Qualifications:
Dr. Martin arrived at the Pentagon in 1989 after 15 years of executive leadership positions with the PHS. He served as Chief of Staff for C. Everett Koop, MD, Surgeon General; Director, Bureau of Health Care Delivery and Assistance; Acting Deputy Administrator, Health Resources and Services Administration; and Director, Bureau of Community Health Services.
Dr. Martin was commissioned in the PHS in May 1975 and held the rank of Rear Admiral upon his retirement in April 1998. From July 2000 through December 2004, he was a Senior Vice President and the Chief Medical Officer at Science Applications International Corporation (SAIC). He has written on topics ranging from rural health and primary care initiatives to quality of care. Dr. Martin received a Bachelor of Science and a Doctor of Medicine from the University of Kansas, and completed his residency in pediatrics at Montefiore Hospital in New York.
Martin, Blanck & Associates:
Martin, Blanck & Associates is a healthcare consulting firm based in Alexandria, Virginia. Martin Blanck provides critical assistance to private sector clients focused on federal healthcare delivery systems and services and public health programs. The firm has more than two dozen senior executive partners with expertise in healthcare policy, program development, executive management, strategic planning, informatics, medical countermeasures research and development addressing chemical, biological and radiological threats, public health strategies, and emerging infectious diseases.