WHO WE ARE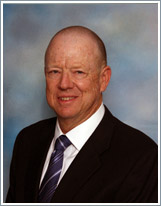 James Roudebush, MD, MPH



President
Major Areas of Expertise:
Executive leadership, strategy development and direction for personnel and medical facilities worldwide
Senior leadership in joint operations and medical operations
Summary of Career Accomplishments:
James Roudebush became a Senior Partner in Martin, Blanck & Associates in October 2009, following 34 years of active duty military service. His final assignment was serving as the Surgeon General of the Air Force in Washington, DC. In this role, Dr. Roudebush provided vision and direction to more than 42,800 people assigned to 75 medical facilities worldwide. He advised the Secretary of the Air Force and Air Force Chief of Staff, as well as the Assistant Secretary of Defense for Health Affairs, on matters pertaining to the medical aspects of the air expeditionary force and the health of Air Force people. He retired as Lieutenant General, US Air Force.
Dr. Roudebush brings substantial leadership experience in joint operations, having served as the Command Surgeon for the US Transportation Command (TRANSCOM), where he exercised dual responsibility to oversee TRANSCOM's global patient movement and guided Air Mobility Command medical operations at 10 US bases. He also served as Command Surgeon for US Central Command, responsible for all US military medical support operations in the Horn of Africa, the Middle East and Southwest Asia.
Additional Qualifications:
Dr. Roudebush served as the senior medical officer for all US Air Force medical operations in the Pacific; commanded a wing clinic and wing hospital before becoming Deputy Commander of the Air Force Materiel Command Human Systems Center. Prior to his selection as the 19th Surgeon General, he served as the Deputy Surgeon General of the US Air Force. Dr. Roudebush entered the Air Force in 1975, after receiving a Bachelor of Medicine from the University of Nebraska at Lincoln and a Doctor of Medicine from the University of Nebraska, College of Medicine. He completed residency training in family practice at the Wright-Patterson Air Force Medical Center, Ohio, and in aerospace medicine at Brooks Air Force Base, Texas.
Martin, Blanck & Associates:
Martin, Blanck & Associates is a healthcare consulting firm based in Alexandria, Virginia. Martin Blanck provides critical assistance to private sector clients focused on federal healthcare delivery systems and services and public health programs. The firm has more than two dozen senior executive partners with expertise in healthcare policy, program development, executive management, strategic planning, informatics, medical countermeasures research and development addressing chemical, biological and radiological threats, public health strategies, and emerging infectious diseases.