WHO WE ARE
Seileen Mullen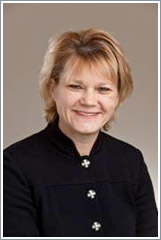 Chief Operating Officer
Major Areas of Expertise:
Federal healthcare policy development
Federal and government relations
Executive and operational management
Medical research and development funding
Summary of Career Accomplishments:
Seileen Mullen was named Chief Operating Officer of Martin, Blanck & Associates in January 2007. Ms. Mullen is responsible for day-to-day operations, including management of client relations, internal communications and external partnerships. Prior to joining Martin Blanck, she was a healthcare consultant and lobbyist.
From 1996 to 1998, Ms. Mullen was the Director of the Department of Defense's TRICARE Management Activity's Aurora Field Office. There she managed TRICARE's contracting activities, now a $40 billion healthcare program providing benefits to 9.4 million military personnel and their families worldwide. In this capacity, she managed approximately 200 government personnel and 150 contractor personnel located in TRICARE's Colorado and Washington DC contracting offices. In addition, Ms. Mullen worked closely in the development and implementation of the healthcare policy agenda of the Assistant Secretary of Defense for Health Affairs (ASD/HA).

Before serving as Director of TRICARE's Aurora Field Office, Ms. Mullen was the principal advisor to the ASD/HA from 1994 to 1996. From 2001 to 2004, she provided program consulting services to the TRICARE Management Activity (TMA) in support of the TRICARE Next Generation (T-Nex) contracts for managed care services, which represented $32 billion in federal healthcare contracting.
Additional Qualifications:
From 1999 to 2001, Ms. Mullen served as the Director of Federal Government Relations for the Salt Lake Organizing Committee for the Olympic Winter Games of 2002. She worked daily with the White House Task Force for the Olympics in securing appropriations for the 2002 Olympic Games and all aspects of government relations at the federal and state level. During her eight years on Capitol Hill, she served as associate staff to the House Appropriations Committee and a professional staff member of the House Armed Services Committee. Ms. Mullen received her Bachelor of Arts from the University of Virginia
Martin, Blanck & Associates:
Martin, Blanck & Associates is a healthcare consulting firm based in Alexandria, Virginia. Martin Blanck provides critical assistance to private sector clients focused on federal healthcare delivery systems and services and public health programs. The firm has more than two dozen senior executive partners with expertise in healthcare policy, program development, executive management, strategic planning, informatics, medical countermeasures research and development addressing chemical, biological and radiological threats, public health strategies, and emerging infectious diseases.